Ingredients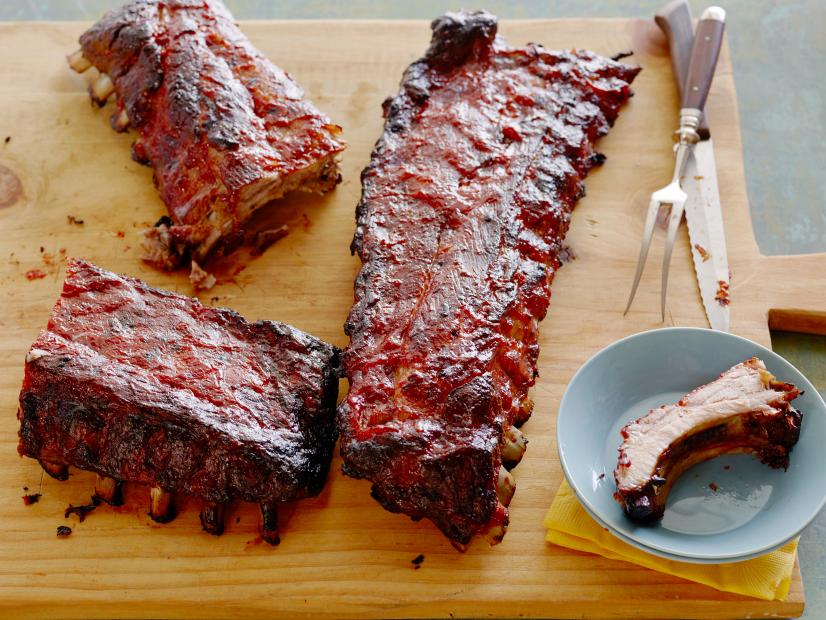 This recipe is from Trisha Yearwood and can be found on the FoodNetwork website.
Ribs:
2 cups soy sauce
1/2 cup light brown sugar, packed
1 tablespoon dark molasses
1 teaspoon salt
5 pounds meaty pork ribs
Barbecue Sauce:
One 14-ounce bottle ketchup
One 12-ounce bottle chili sauce
1/2 cup light brown sugar, packed
1 teaspoon dry mustard
Directions
WATCHWatch how to make this recipe.
For the ribs: In a medium saucepan, combine the soy sauce, brown sugar, molasses, salt and 1 cup water. Bring to a boil and set aside to cool to room temperature.
Put the ribs in a large, turkey-sized baking bag or sealable plastic bag. Support the bag in a 12-by-14-inch baking pan. Pour the marinade over the ribs and seal the bag. Marinate the ribs in the refrigerator for a few hours, turning the bag occasionally to thoroughly coat the meat.
Preheat the oven to 375 degrees F.
Drain and discard the marinade. Cut four slits in the top of the baking bag, if you are using one. Otherwise, remove the ribs, transfer them to the baking pan, and cover the pan with foil or a lid. Bake for 2 hours.
For the barbecue sauce: While the ribs are baking, blend the ketchup, chili sauce, brown sugar, dry mustard and 1/3 cup water in a large saucepan. Bring the mixture to a boil, stirring to dissolve the sugar, then remove from the heat.
When the ribs are cooked and tender, remove them from the baking bag. Lower the oven temperature to 350 degrees F.
Brush the ribs on both sides with the barbecue sauce and return them to the oven to bake, uncovered, for 30 minutes longer. Just before serving, throw the ribs under the broiler to give them a bit of a char.