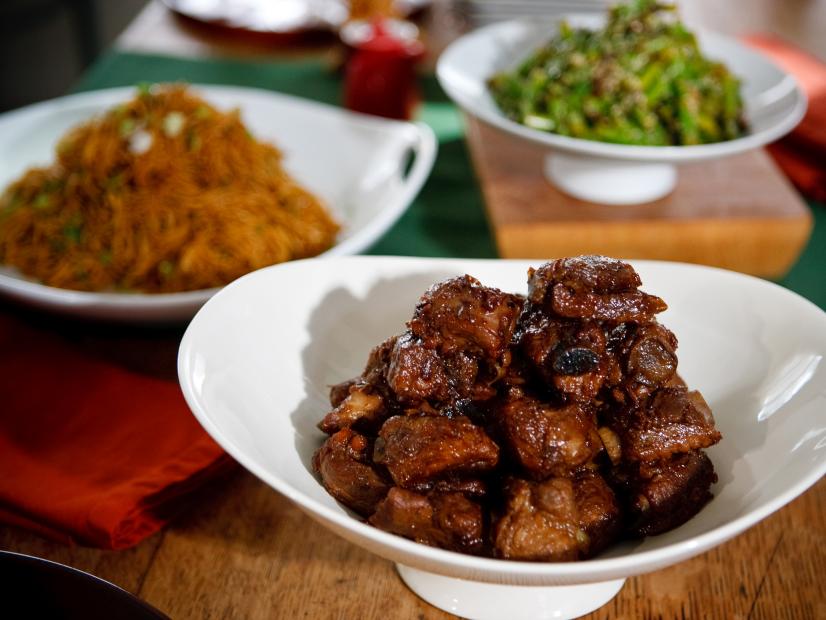 This Spare Ribs recipe is from Alex Guarnaschelli and can be found on the FoodNetwork website.
Dad's Spare Ribs Recipe is perfect for a family cookout or any occasion. The Spare Ribs recipe is easy to make and enjoyable for the whole family to eat!
Ingredients
3 pounds pork spare ribs, on the bone, cut into 1 1/2 by 1 1/2-inch to 1 1/2 by 2-inch pieces
6 tablespoons cider vinegar
4 tablespoons dark soy sauce
2 tablespoons rice wine vinegar
1 tablespoon sugar
2 tablespoons honey
Coarsely cracked black pepper, for sprinkling
Directions
Place the spare ribs, cider vinegar, soy sauce, rice wine vinegar and sugar in a large bowl. Add 2/3 cup water and stir to combine. Place the spare ribs and the liquid in a large pot over low heat. Cover the pot and bring to a gentle simmer. Cook until the meat begins to come apart from the bone, about 40 minutes.
Remove the spare ribs from the pot using a slotted spoon. Increase the heat to high and let the sauce reduce until it looks glazy, 5 to 10 minutes. Add the honey and sprinkle with pepper and let the sauce simmer, about 1 minute. Pour the sauce over the spare ribs and mix to combine. Serve immediately.
For more Spare Ribs recipes, check out this Tequila BBQ Spare Ribs