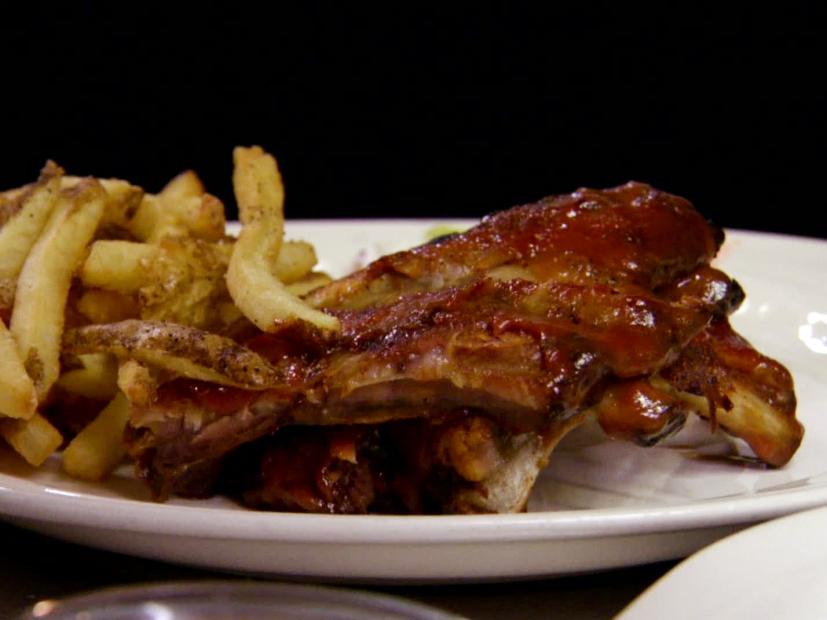 This recipe is from Robert Irvine and can be found on the FoodNetwork website.
Ingredients
2 tablespoons cumin
2 tablespoons dry mustard, such as Coleman's
2 tablespoons onion powder
2 tablespoons smoked paprika
3 tablespoons kosher salt
1 tablespoons ground black pepper
1 tablespoon cayenne pepper
4 racks baby back ribs
4 whole dried bay leaves
4 cups BBQ sauce
Serving suggestions: fresh cut French fries and coleslaw
Directions
Preheat the oven to 225 degrees F. Please note: The oven should not be hotter than 250 degrees.
Combine the cumin, dry mustard, onion powder, smoked paprika, salt, black pepper and cayenne pepper in a bowl mixing well.
To prepare the ribs, remove the silver skin from the back or under the rib side and rub the trimmed rib racks with the spice mixture. Place the racks on a sheet of plastic wrap, top with the bay leaves and wrap tightly. Place in the oven (the plastic will not melt at this low temperature) and roast for 2 hours.
Remove the ribs from the oven and allow them to rest for 10 minutes. Place the ribs on a baking sheet and coat with the BBQ sauce. Roast under the salamander on medium heat or in the oven set to broil until the sauce is caramelized, 3 to 4 minutes.
Remove the sauced ribs and allow them to rest for 3 to 5 minutes. Portion the ribs into serving-size pieces. Plate and serve with French fries and coleslaw.