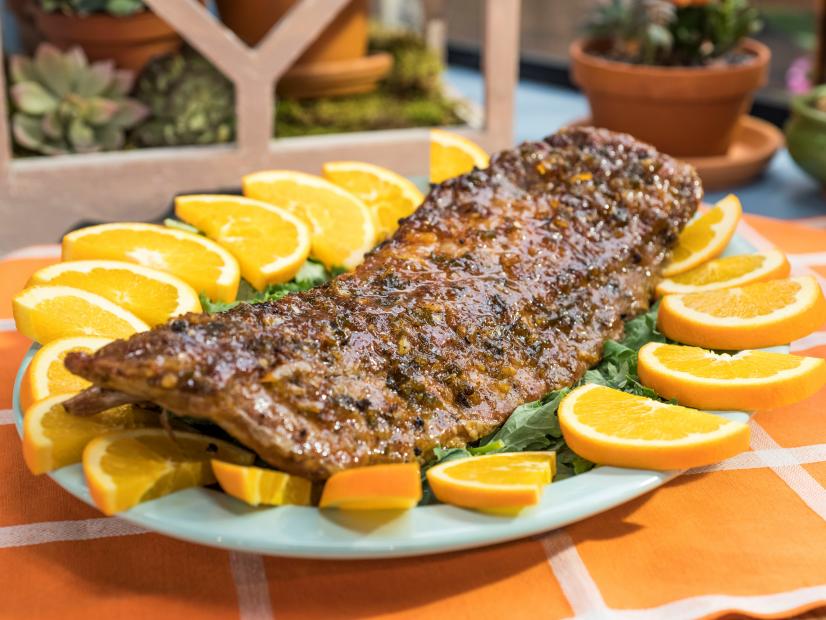 This recipe is from Sunny Anderson and can be found on the FoodNetwork website.
Ingredients
Sauce:
1 cup orange marmalade
1/2 cup chopped white onion
1/4 cup brown sugar, light or dark
1 tablespoon ketchup
1 tablespoon Worcestershire sauce
2 jalapeños, one seeded, both finely chopped
1 clove garlic, grated on a rasp
Zest of 1 orange (if using fresh orange juice)
Kosher salt and freshly ground coarse black pepper
1 cup orange juice (preferably fresh)
Ribs:
3 to 4 pounds baby back pork ribs, sliver skin removed
Kosher salt and freshly cracked black pepper
1 orange, sliced into wedges, for serving
Directions
WATCHWatch how to make this recipe.
For the sauce: Add the marmalade, onions, brown sugar, ketchup, Worcestershire sauce, jalapeños, garlic, orange zest, a pinch of salt and plenty of coarse ground black pepper to a medium pot on medium-high. Bring to a simmer and cook until slightly reduced and thickened. Remove from the heat and divide as follows: for the basting liquid, pour 1/4th of the sauce into a medium bowl and whisk in the orange juice. Pour the remaining sauce into a medium bowl to use as the glazing liquid.
For the ribs: Preheat the oven to 250 degrees F. Sprinkle the ribs generously on all sides with salt and pepper and place on a rimmed baking sheet, bone-side down. Brush lightly all over with the basting liquid. Pour all the remaining basting liquid into the bottom of the baking sheet and cover tightly with aluminum foil. Cook 3 to 5 hours, basting with the liquid every hour and re-covering tightly each time. After 3 hours, begin checking the ribs for doneness by gently pulling at the middle bone to see if it will release easily from the meat. The ribs are also done with about a 1/2-inch of the bone showing on the ends, or a pull at the middle bone feels like it will release the meat.
Once the ribs are cooked remove the aluminum foil and brush the ribs with the reserved sauce. Adjust the rack to the bottom of the oven, turn the broiler on high and cook the ribs until the glaze caramelizes, about 10 minutes.
Remove the ribs from the oven onto a cutting board, tent with aluminum foil and let rest for 10 minutes. Cut into 1- or 2-bone slices and serve with orange wedges.